Can you receive Director Disqualification AND go to Prison for the same offence?
July 29, 2017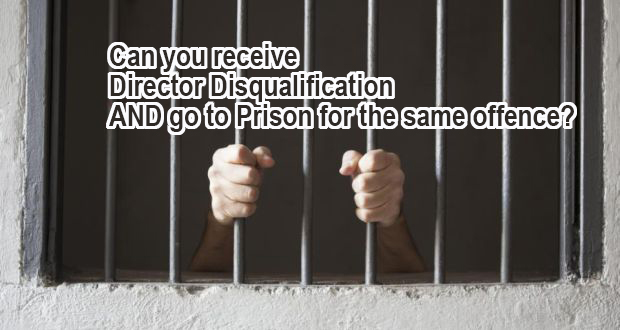 The answer is yes, as this case shows, where a director of a construction company received a 7 year director disqualification period AND an 8 month prison sentence following an investigation by the Health and Safety Executive http://press.hse.gov.uk/2017/construction-company-director-imprisoned-after-safety-failings/  for non compliance with the regulations.
Why was the director disqualified and imprisoned?
 The director, David Gordon Steadcame under investigation by the HSE, for a serious breach of health and safety regulations. He had instructed a worker to stand on top of a skip to pour highly combustible thinners so it would burn properly. Inevitably, the thinners caused a fireball that caused serious burns to the worker's arms and legs.
The investigation showed that: the burning of the waste was not carried out safel and that Mr. Stead had neither administered first aid, nor had sent the worker to hospital.
Additionally, he had not informed the HSE of what had happened,which he was duty bound to do under Section 4(1) of The Reporting of Injuries, Diseases and Dangerous Occurrences Regulations 2013 http://www.hse.gov.uk/riddor/
Mr Stead pleaded guilty to breaching this regulation as well as Section 37 of the Health and Safety at Work Act 1974. As a result, he was sentenced to 32 weeks' imprisonment, for half of which he was released under licence and received a director disqualification period of 7 years.
Adele Davies the HSE Inspector stated that:
"David Stead failed his employees. His actions could have resulted in the death of this worker. The young man suffered unnecessary life threatening injuries due to poor working standards."
"We hope this sentence sends out a message that directors of businesses must take their health and safety responsibilities seriously."
Had Mr Stead complied with his duties, as required by the law, the incident would most likely not have occurred, the worker would not have been injured, and Mr Stead would have avoided both the custodial sentence and the director disqualification.
The case is a reminder that strict compliance with the statutory requirements of Health and Safety legislation is required at all times. Non-compliance will lead to severe action against the transgressing director, personally, by the HSE.
Related Posts